Nanci's Starting Place by Paul Johnston
Nanci Griffith is one of my favorite folk singers. I thought it might be interesting for those that follow her career to see where her singing career began in the early '70s, The Hole in the Wall ( Officially, The Hole in the Wall Arcade and Restaurant). This establishment still exists and is located at 2538 Guadalupe in Austin, Texas, just off campus at the north-west side of University of Texas in Austin. Nanci would play here on Sunday evenings.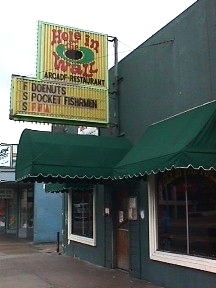 Prior to becoming the Hole in the Wall, this location was the home to Hank's Grill. In the mid sixties while I was attending the University of Texas, I would walk down to Hank's on a Sunday evening and order up Hank's well-known chicken fried steak which came with lots of gravy and fried potatoes and a small salad. A popular song that many of Hank's patrons would select from the jukebox was "A Taste of Honey" played by the Tijuana Brass. At some point in the late sixties, Hank's Grill was closed down.
The location laid dormant for a period of time, then became The Hole in the Wall. The yellow sign above the door is still the same. At first the lettering for Hank's Grill was removed from the store front, but you could see its outline for a number of years. Eventually, the store front was changed by adding a new door and windows to each side of the doorway.  As you walk in, the bar is to your right, the table area directly ahead and the small performing stage area is to your left in front of the left window. From the menu on the blackboard, chicken fried steak is still a main item there.
Across the street at the corner of Dean Keeton Street and Guadalupe is the Communications Building at the University of Texas where Nanci recorded her sessions for "Austin City Limits". From one report she intended someday to go across the street to the "rusty bucket" and be recorded. The Communications Building's upper exterior is made of weathering steel. It is a special steel that is designed to rust superficially and then stop rusting. The resulting color is one of a dark brown. The top exterior appears now to be painted with a dark paint. With Nanci's great talent, she did indeed walk across the street from The Hole in the Wall to the "rusty bucket" and record for "Austin City Limits".
[ more at http://members.aol.com/kfyi/nanci.htm ]