Legendary Hole in the Wall on Drag set to reopen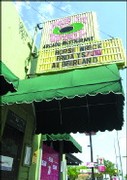 Photo by Sunil Lavani/
Daily Texan Staff
By Mark C. Worth (Daily Texan Staff)
April 17, 2003 The Hole in the Wall Bar and Restaurant - an Austin live music landmark - had seemingly closed its doors for good last June when its lease ran out and wasn't renewed.
But all that changed Tuesday when locally owned Austin's Pizza officially closed the deal on purchasing the building that sits on the Drag at the corner of Guadalupe and Dean Keeton streets.
While Austin's Pizza representative Annie McLaughlin would not comment on any specific plans the company has for the bar that served Austin for 28 years, she did say that "Hole in the Wall will rise again."
It is still unclear whether the bar will retain its original name upon reopening.
The bar that played host to over 10,000 artists such as Stevie Ray Vaughn, Doug Sahm, Fastball and The Reverend Horton Heat has been known by locals as a spot that epitomized the spirit of Austin as The Live Music Capital of the World. And when the dive was shut down last summer, many Austinites felt the sting of losing something they thought was essential to the city's personality.
"The Hole in the Wall was a tradition," said Troy Pickett, general manager of the Crown and Anchor Pub. "I don't really know what they're going to do to the place, but it won't be the same no matter how hard they try. It would be a miracle if it were anything near the same."
Paul Perez, a bartender at the Texas Showdown Saloon, the bar closest to the Hole in the Wall, said he remembered the Hole as a good complement to his bar, located just one block away.
"They really made it fun to work here," Perez said, "because you didn't have to go all the way to Sixth Street. You knew there was a music venue only a walk away."
To some, the reopening of the Hole in the Wall represents a step toward preserving local businesses that are facing increased competition from corporations and franchises.
Zachariah Coonce, general manager of the Dog and Duck Pub, said, "Having the Hole in the Wall back is great because people want service that's personalized. And because Austin's Pizza is locally owned, I think everyone is backing them.
"We [local businesses] all look out for each other because so many big corporations have so much money, and they can do whatever they want."
Looking through Austin's business landscape over the last several years reveals a trend of small businesses being replaced by corporate-owned businesses, but some just welcome competition no matter their affiliation.
"Any small business that can make it is good for everyone," said John Randall, manager of the Texas Chili Parlor. "But any kind of new competition is healthy."
Original Article at
http://www.dailytexanonline.com/vnews/display.v/
ART/2003/04/17/3e9ea98470a50?in_archive=1