Backstage Pass: The Hole Truth: June 14, 2002 by Andy Langer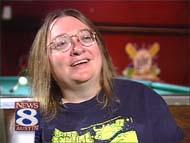 Debbie Rombach remembers the first time she stepped foot in the Hole In The Wall. It was the bar's opening day, June 15, 1974. Today, she owns the legendary Guadalupe music venue. But back then she was merely an incoming University of Texas freshman in Austin for dorm orientation.
"There were some friends of mine over there with me who said there was a new bar opening across the parking lot," Rombach said. "They had quarter shots of tequila and five or ten cent draft beers. It was like 'What do you want to do, go to the dorm thing or across to the bar?' We went to the bar."
After three years dedicated mostly to studying, Rombach returned to the Hole In The Wall for extra cash ­ moving from waitress to bartender, from office manager to booking agent, and three years ago, to owner. She believes each title has given her unique perspective on what's become a benchmark of 'Old Austin' as both a sports bar and live music venue. Debbie Rombach  
To Rombach, its primary appeal is that it's always been more than a college bar. And indeed, a look at the regulars reveals both young and old- many who might have never met any other way.
"They come in, hear somebody mouthing off about a sports team and they say something back," Rombach said. "And the next thing you know they're sucked in. And then they go 'Oh wow! A band I like is playing tonight too.' The next thing they know they've been here for ten hours and they're not leaving the rest of their life."
Rombach jokes about the Hole's longstanding reputation as a 'Black Hole' for time and money. But she says that the rewards for her dedication to long hours and late nights have been simple.
"The reward is when I have a night when people come up to say 'Thank you. We had such a great night. We loved the bands,'" Rombach said. "When somebody comes up to thank you for being there it makes me happy."  
Sadness may well be the month's primary emotion. The Hole In The Wall will likely close its doors June 30. Rombach says she's a victim of Austin's latest real estate frenzy and the marketing efforts of the city.
"It's sort of like they used my scene to sell their city to the big businesses who ran all of us in my scene out," Rombach said. "I keep having people walk up and go 'Where are we going to go?' I don't know. I'm trying to figure that out too."
Should the Hole indeed close later this month, the woman who's dedicated the bulk of her adult life to keeping it open says she knows how it will be best remembered.
"We'll be remembered for music and people having fun," Rombach said. "And probably for a lot of hangovers."
Upcoming: Barring a last-minute reprieve, the Hole In The Wall plans to close June 30. And yet, the club will celebrate it's 29th Anniversary with a party Saturday night featuring Alejandro Escovedo, Lil' Cap'n Travis, and Mike Hall.
[ original article at http://www.news8austin.com/content/living/backstage_pass/?SecID=35&ArID=37324 ]