Austin Chronivle: TCB BY Christopher Gray
May 23, 2003: Hole-y Cow!
Considering all the fanfare and hand-wringing that accompanied the Hole in the Wall's closing last June, it's appropriate that the venerable bar at 2538 Guadalupe reopened last Friday night almost completely under the radar. That's not a misprint: The Hole in the Wall is indeed open for business once again, a development that comes as almost as much of a shock to management as the public at large. "We opened practically overnight," says general manager Matt Allen , pointing out that as of Friday afternoon, the club lacked carpet, a jukebox, pinball machines, and most importantly, booze. Miraculously, all those materialized one by one throughout the day, and by 8pm, drinks were being poured, and word was rapidly spreading. By Sunday night, musicians were showing up wondering if there was going to be a Free for All. Not as of yet, though Allen says he and Paul Minor are "in talks." It will be a few more weeks before music returns to the freshly carpeted, kitchenless Hole, as Allen has barely had time to sleep, let alone book bands. "We're moving slow, and will be moving slow for a while," says Allen, adding that the Hole is likely to start slow with the music, two or three nights a week at the outset. "There's no reason to dive headfirst into this." For now, patrons will have to be content with $5 pitchers of Lone Star, free shuffleboard in the back room, and a jukebox featuring Willie Nelson, ZZ Top, Neko Case, the Meat Purveyors, T. Rex, and Pavement. "It feels so good," affirms day manager/bartender Brooks Brannon . "It's hard to explain -- like wandering around in the dark and the light comes on."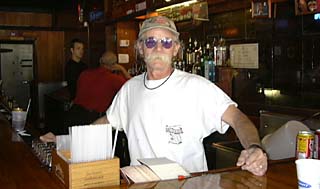 Brooks Brannon - Photo from Austin Chronicle
Original Article at
http://www.austinchronicle.com/issues/dispatch/2003-05-23/music_TCB.html