The Hole in the Wall closed its doors on June 30, 2002
For the last time? Who can say?
Here's the latest from Corcoran of the Statesman 1 August 2002:
"For all the people who said they wanted to save the Hole in the Wall, I'm kinda disappointed that no one has stepped forward," says Realtor Robert Knight, whose company is trying to rent the club for $7,000 a month, more than double the Hole's old rent. The building's still for sale, but Knight says finding new tenants and giving them a long-term lease will enhance the property's value . . .
[ complete article at http://www.austin360.com/aas/xlent/corcoran/ ]

This site will serve as a collection point
for dreams, memories and photographs.
There is a ton of stuff that I have to put up here.
So check back weekly to check out the latest additions.
7.13.2002 - Many Articles Added
7.15.2002 - Working on the Hole Chronology
9.22.2002 - Women of the Hole Calendar 1997 Photos
Please feel free to contribute
either through the Guestbook, email or regular mail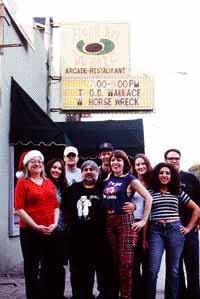 Oh yeah... the best graffiti I ever saw at the Hole
was in the Men's bathroom - just above the urinals -
for a long time before I ever bother to follow its lead:
Check it out. Sure made me laugh.